Coating System for Pipelines--Inner Layer
1.Quick Details
Product Name

T100 PE ANTICORROSION INNER TAPE

Thickness

7mil-59mil (0.18mm-1.5mm)

Width

2 " - 32" (50mm-800mm)

Length

100'-800' (30m-244m)

Material

Polyethylene Film+Butyl Rubber Adhesive

Color

Black/White/Yellow

Packaging

Release Paper+ Carton/Plastic seal/Pallet

Delivery

<5000㎡

5000-30000㎡

>30000㎡

3 days

7-15 days

To be negotiated
2. Product Description
T100 PE Inner anti-corrosion tape is a two ply tape with LDPE carrier film and butyl rubber adhesive on one side. It is cold applied tape coating system for corrosion protection of Water, Oil and Gas Pipelines. The T100 is engineered to assure a high bond to the primed surface with excellent conformability characteristics. It shall be applied after primer and before outer mechanical protection tape.
3. Application
(1) Petroleum and Natural Gas Pipelines
(2) Over the Ditch Line Coatings
(3) Girth Weld Coating
(4) Plant Applied Line Coatings
(5) External Anti-corrosion of Metal Pipes
(6) Chemical, Electric Power Pipeline Projects and Facilities
(7) Water supply Pipeline, UrbanGas Pipeline Network
(8) Reconditioning/Rehabilitation Coating System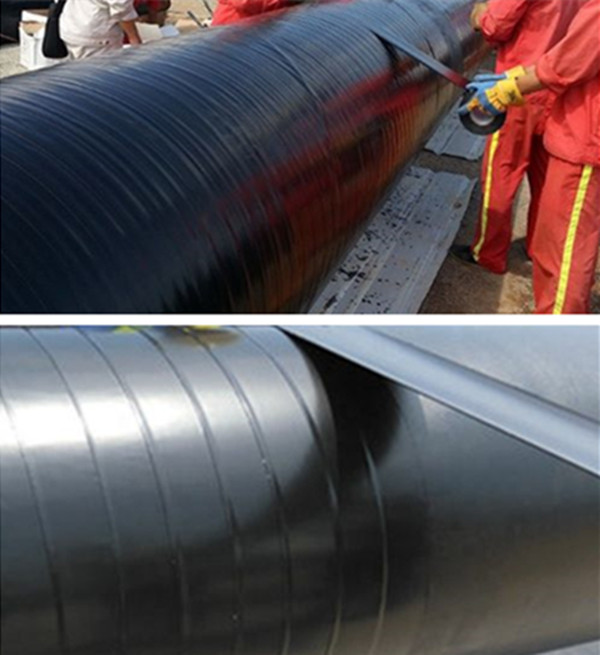 4.Specification
Physical Properties

Test Method

Typical Value

English

Metric

Backing color

-

Black

Black

Tensile strength

ASTM D 1000

51 lbs/in

90 N/cm

Elongation

ASTM D 1000

280%

280%

Peel adhesion to primed steel pipe

ASTM D 1000

311oz/in

34 N/cm

Cathodic Disbondment

ASTM G 8

0.252 in radius

6.4mm

Dielectric Strength

ASTM D 149

30.0 KV

30.0 KV

Volume Resistivity

ASTM D 257

2.2×1012 ohm.cm

2.2×1012 ohm.cm

Water Absorptivity

ASTM D 570

≤0.06%

≤0.06%

Water Vapor Transmissioin Rate

ASTM F 1249

0. 083 g/100sq in/24h

0.13 g/ m2/24h

Application Temperature

-

14ºF to 140 ºF

-10ºC to +60 ºC
5. Features
• Excellent adhesion to pipe and self.
• Cold applied.
• Can be applied over a wide temperature range.
• Long term corrosion protection.
• Compatible with common pipe coatings.
• Application by hand or machine.
• Complies with ASTM D1000,EN12068,DIN30672 standards.
6. Packaging and Shipping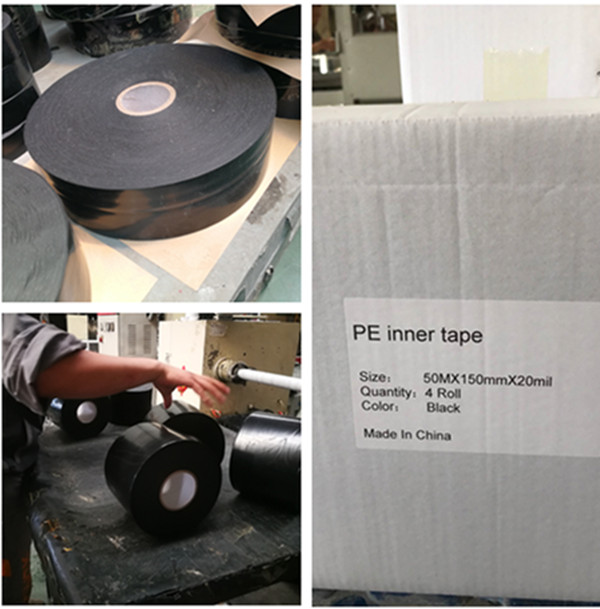 Get A Free Sample Now !!!